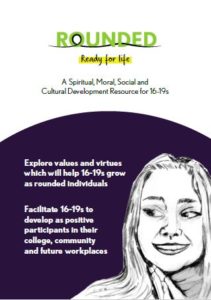 ROUNDED – Ready for Life  is WMCFEC's new interactive, flexible format resource for exploring key character dispositions with 16-19s.  The resource covers six themes common to many religions and worldviews, from a broad Christian perspective, through a 10 minute ineractive PowerPoint film plus a suite of supporting activities that can be tailored to group size, time and space available.
ROUNDED has been created by Simeon Whiting, commissioned by WM Churches' FE Council and designed by Mazo Creative Agency, with voice work from the Saltmine Theatre Company.
You can download ROUNDED here (link to Google Drive).